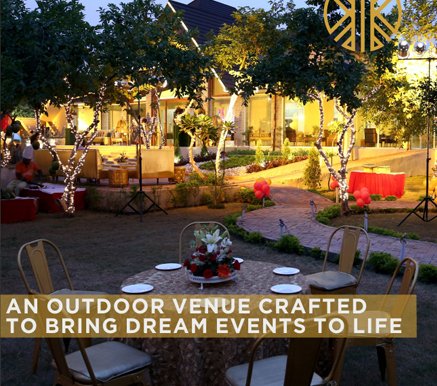 Facilities:
Trellis Garden: An enduring classic is the first thought that enters your mind as you roll into the gates of "Trellis Garden" – it transcends you to the great European Era. The Grand Venue blends beauty, luxury, ethnic architecture and grandiosity under one roof.

Trellis Gardendisplays a marvel of European Architecture with Modern interiors. It has a modern decor & lavishly adorned crystal chandeliers that lights up the ballroom creating a world class ambience.
One of the biggest centrally air-conditioned halls in the tri-city.
Beautifully landscaped lawn
Classic Furniture with high back chairs.
Special VIP lounges.
Ample Parking space.
Valet Parking.
Luxury suite for bride with special photography studio.
If planned well in advance a dress code can be established in keeping with the theme. This will make your wedding different and something to be talked about.
Planning the decor
This entails transforming the venue, be it the interiors of a hotel, a banquet hall or a mega sized farm house into one that fits with the theme .
Coordination of flowers
No theme is complete if the flowers and flower arrangements do not match the décor or the theme. From providing Ikebana arrangements if the theme is Japanese and tulips and orchids